What's up family?
I know that this blog post is overdue…but bear with me! I'm playing catch up! I'm back on OUAN and I'm just in love with writing…so I am trying to give due diligence to some things that I may have missed!
On September 20, 2015, Viola Davis made history becoming the first Black to win a Primetime Emmy Award for "Outstanding Lead Actress in a Drama Series" for her work on ABC's How to Get Away with Murder. First watch her speech below:
First and foremost, I want to know that I congratulate her for the success she has found with her role.  But I can say that I can appreciate her acceptance speech on many levels because first and foremost her presence was a display of unapologetic Black beauty. She was unashamed of her hair, the complexion of her skin…she wore Black beauty well that evening. Then to hear, as she was presented, that she was introduced as a graduate of Juilliard. That statement in, and of itself, speaks of a person that defied the odds, applied much hard work to perfect her craft, and did so without losing sight of who she was and from whence she hailed…in her opening remarks, she paid homage to Harriet Tubman and drew a parallel between the struggle of Black women in the Tubman's era to Black women today in Hollywood. She expressed the thing that separates Black women from all others is opportunity. In her words, "You cannot win an Emmy for roles that simply are not there."
As is the cultural norm in these United States of America, anytime the topic of race is offered up in discussion an unspoken awkward feeling sweeps the room because it makes people uncomfortable. On one point of the plane, there is a school of thought that Blacks often find opportunities to make things about race. At another point, there is a concerted effort to call the conscience of America into question and hold her accountable for the injustices of the present that are systemically linked to the injustices of eras gone past. Another point would attempt to point to the inequities dealt to all women. And then there are others that just don't care.
I have mixed views. But before I get into my views, there were two views that arose after her speech from her "co-laborers" in the entertainment field. The most notorious was issued by Nancy Lee Grahn, actress on General Hospital. In tweets, that she has since deleted, she said:
I wish I loved #ViolaDavis Speech, but I thought she should have let @shondarhimes write it. #Emmys
— Nancy Lee Grahn (@NancyLeeGrahn) September 21, 2015

@nxssy I do 2. I think she's the bees knees but she's elite of TV performers. Brilliant as she is. She has never been discriminated against
— Nancy Lee Grahn (@NancyLeeGrahn) September 21, 2015
For more of her tweets concerning Viola Davis, click here…
Now I take issue with this…I feel that when someone achieves something they have the right to express themselves as they see fit. But on a deeper level, I don't like how people's words, in a brief statement, can be used out of context to shape a view to attack. And to add insult to injury, they use their criticism to make an issue that had nothing to do with them, about them. How can this woman say that someone wasn't discriminated against? If a Black actress wishes to state some of the disparities she has experienced as a Black actress, what validates a person to belittle her view and then make it about what they wish? It is ignorance.
But almost one month removed from the awards show, Davis' words yet strike a chord and has brought Whoopi Goldberg out to weigh in. Of her speech, Whoopi said in an interview with BET, as reported by Essence, "I'm not sure what it means. Opportunity to do what?" Her position is that there is plenty of opportunity present for Black women in Hollywood…the caveat is what must be done to win the award.
Reading comments left by readers responding to Whoopi's words, many characterized her as a "hater" or "throwing shade," suggesting that she was downplaying Viola Davis' achievement.
But you know what, I can understand, on some level, what Whoopi is saying. On a grand scale, we have to acknowledge the progress that Black men and women have made in all fields of human endeavor, especially in Hollywood. The roles are there. Viola Davis even acknowledge several leading Black actresses…but it is true. It now becomes a question of what must be done to get the opportunity to get a vote, not so much the role.
And this is my view. I don't discredit or downplay her achievement. I am proud of my sister for forever leaving a Black mark on White string that was 62 years long.  But I will say this. Being married to a woman of Puerto Rican and Dominican blood, I do realize how much attention is placed "Black" and "White" but the truth is a great many are are overlooked altogether. Truth. A deeper truth is the fact that everytime there is a "first Black" moment, I feel that it is given so much attention that it two counterproductive things happen. 1) It in a sense, creates a perpetual struggle and defeated mentality. It's one thing to acknowledge what you have come through, but it's another thing to acknowledge where you're going…and still send an impactful message. Recognizing that the women such as Harriet Tubman paved the way for you to get there, pay homage but recognize you are there. To constantly have a myopic perspective of having to overcome oppression, would it not be more fruitful to have a view that uses your experience to serve as an impetus of inspiration for others (especially our youth) to exceed your achievements? Not to do so leads to the second counter-production: 2) Obsession of the "first Black" blinds us from seeing the need of developing the next 50.
For almost eight years, Blacks have been trumpeting pride in electing the "first Black" president. But the question that I asked in 2008 is the same question I'm asking now…who's next? Look at the lack of representation in the Senate, on the Supreme Court, gubernatorial leadership….so much emphasis on one achievement that we don't have a succession plan. Who will follow? For years we have watched the Williams sisters dominate on the tennis courts of the world…who's next? Tiger Woods was the Michael Jordan of golf…who's next? General Colin Powell was the "first Black" Chairman of the Joint Chiefs of Staff. Who's next? What good is it to celebrate the first if provisions aren't made for the 101st? It sounds condescending, but the spirit of my words is a challenge not to settle and to ever be desirous of more. One is not enough.
But I will say the quiet undertone of my sentiment is expressed in the lyrics of two MC's from a couple of Hip-Hop records. The first are the opening words of KRS One in his song "MCs Act Like They Don't Know" (Pardon language):
"If you don't know me by now,
I doubt you'll ever to know me.
I never won a Grammy,
I won't win a Tony
BUT I'm not the only MC keepin' it real,
When I grab a mic to smash a rapper
Girls go, 'Illllllllllllllllllll!'"
These words are so powerful. In effect he is saying that even if he is never recognized by the voting powers that be to give him an award, he knows that he is true to his craft. But in the same breath, he knows he doesn't stand alone in being a stalwart for the artistry that is known as Hip-Hop. In a simple sentence, act like you been there before. Recognition is good. Don't get me wrong…but even if you aren't recognized, it doesn't belittle or diminish the worth of your body of work.
The other was issued by Phife Dawg of A Tribe Called Quest in the record, "Award Tour." He said, "I never let a statue tell me how nice I am." Certainly people want to have wins. We love recognition. We love to be noticed for our work. However, an award, or "statue," is the tangible representation of what people think of you. To think exceedingly high of it is to think exceedingly high of the opinions that others have for you.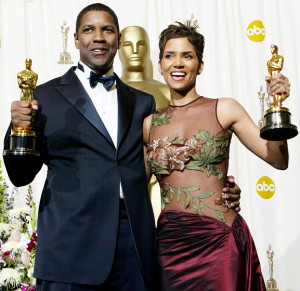 To this day, I still bear the sentiment that Halle Berry and Denzel Washington won Oscars for Best Actor and Actress in 2002 for roles that made them look less than honorable, but very much aligned with the stereotypes and stigmas associated with Black men and women. I can speak of Denzel especially…he has had roles where his acting was par excellent and he was never considered. To give a valuation of these awards to be segues to process, in a sense is a petition for acceptance…twice.
So the question that Whoopi poses, I feel, is a valid one. Is opportunity really about getting the roles or getting the votes? If votes represents the opinions that others have for you…does it really matter at the end of the day? If you can stand by the quality of your work, and the passion with which you pursued it, does the opinion of another truly matter? The 2002 Oscars forever tainted my view on said awards of recognition. Competition…a very different story. The Dallas Cowboys earned all five of those Super Bowls… and have been breaking my heart ever since. But everyday is a day a proverbial statue, or superlative, is up for grabs. It's called popular opinion. If it isn't a critique that can better enhance me as writer, a husband, parent, minister, musician, entrepreneur…if it isn't something that can make me better… I can leave the popular opinion hanging.
I'm more interested in Blacks creating opportunities versus the drive to seize them. I'm less interested in who's now; more interested in who's next. I'm sure it doesn't sound like it, I am happy for her achievement, but I'm more impressed with her body of work. That is the award that was not given to her, but that she gave to every Black woman past, present, and future. Viola Davis is the subject of jubilation…much more than the unspoken conceit manifested in a few ballots that dispenses "statuettes" of gold plated copper, nickel, and silver…at their bidding.
If Viola Davis ever reads this, know that I feel your work, the reaches of your influence, the impact you have on others, and the legacy you are building to leave…that's where I direct my jubilation. I'm happy for you not only because others wish to give you a nod, but because your work and your worth speak louder than metal and wood ever can. It is my hope that you are an inspiration for more to go for their dreams regardless of the acceptance of others…accepting no limits.
You work is your award. Make it your best.
Familuv,
TWJ
John 3:30