What's up family?
I am going through a series of adjustments in life, all of which require time! But it is a slice of heaven every time I get to sit down and allow my hands to translate what is on my heart and in my mind…whether it be a piano, organ, or blog entry. But there are days that I share the sentiments of the incomparable Ms. Badu:
My pencil weighs a ton today.

— ErykahBadoula (@fatbellybella) September 5, 2015
Nevertheless, you have to fight through the funk sometimes! So we commence.
I promise you that OUAN hasn't become an offshoot of www.findagrave.com! But anybody that knows me knows that there isn't an obsession with death, but a deep reverence of it. Perhaps that is what fuels my interest in funeral service… The fragility of life… you have a few days to make an impact! So make each day worth it. Like my professor Dr. B chimed in on my last post, a "hyphen of love" is a life well lived…
So let's share a little bit about my hyphen as of late!
Last week my [step] son graduated from Marine Corps boot camp at the Marine Corps Recruit Depot in Parris Island, SC. To ensure his sisters, my [step] daughters could take part in the celebration, I drove about 2,000 miles… That is about 33 hours of driving in a 60 hour period. The things you do for the ones you love…
Being at Parris Island, SC, I knew that I was extremely close to Beaufort, SC…that was too close for me not to pay homage to one of the greatest men in history… Robert Smalls.
You may not have heard of the name, but be not deceived, he was a giant of a man. I pay homage to him right here on my blog with a banner image…you should see it pop up from time to time:

So who exactly was Robert Smalls?
There is no short answer to this…but the gravity of his contribution to society rests in the fact that he was born a slave, but was very much free in his mind. He was born in a cabin behind his master's house located at 511 Prince St. in Beaufort, SC. Once he reached the age 12, he was sent away to work with the money he earned to be paid to his master. In time he found himself working around boats in the Charleston Harbor. This experience around boats would give him the necessary knowledge to hijack The Planter, a Confederate ship, and surrender it to the command of the Union. This heroic feat allowed him to be rewarded with cash as well as a meeting with President Lincoln to tell him details of his acts. As time would advance, he would become the first Black to serve as a captain of a vessel in the service of the United States…this promotion only came when he defied the orders of the white captain to surrender, and courageously piloted The Planter out of the range of the Confederate guns; had they surrendered, he knew the Blacks wouldn't be treated as prisoners of war, but killed. So he valiantly fought on.
Another important fact is that it was at the urging of Robert Smalls that President Lincoln and Secretary of War Edwin Staton to allow Blacks to fight for the Union. And you know what they did? They agreed! I've seen the movie "Glory" that highlights the story of the 54th Massachusetts Infantry Regiment. I've even heard of more contributions Blacks had for the Union forces during the Civil War…but to think that it started with one man urging the President of the United States to let Blacks fight! Think of the Tuskegee Airmen, Gen. Colin Powell, or even my cousin (one year my senior) that is a military officer…Blacks in the armed services, even today, are standing on the shoulders of one man's willingness to speak to power on the behalf of not all Blacks at that time, but all to come.
After his military service, he returned to his native South Carolina and served in the state senate, and was later elected to serve in the US Congress as a republican. He was the longest serving Black in congress for almost a century until Adam Clayton Powell took office.
But one of the most moving life happenings for Mr. Smalls was he went back to 511 Prince Street…this time as a freedman; he purchased the house in a tax auction and live out the remainder of his days here. In an act of humility, he allowed the wife of his master to live out her last days there as well… To visit South Carolina, the only reason that Tabernacle Baptist Church has national prominence is the fact that the bones of that great leader are interred there. From the cabin, to the big house, his home is a national landmark. Around the corner, Route 170 is Robert Smalls Parkway. There is even a school named after him that recently made mends to serve his legacy better justice…to have a school named after a Black Civil War Hero, then have a White man from the Colonial Era as the mascot was a bit in distaste: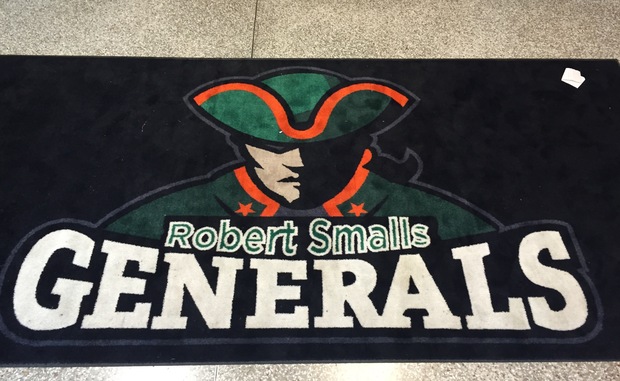 The new logo is: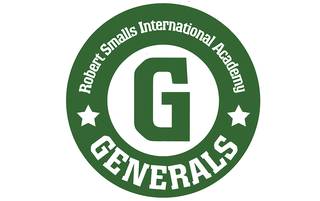 Personally, I think more could have been done to capture the namesake…but I digress…
With all of this, this isn't why he's my hero? The truth of the matter, I didn't realize why he is such a hero to me until this last visit to his grave…it let me leave with two perspectives.
The first is the first time that I stood here was over 21 years ago. I was here for a family reunion. I just knew every even numbered year, I would have a yellow t-shirt on with the words "Jones-Smalls Family Reunion." The first time I was here I was surrounded by family…this was the last trip I would take with my grandmother. Within two weeks of us getting back from Beaufort, she left us… This visit, I stood alone in the cemetery. 21 years without my grandmother. And so many that were there 21 years prior, on that hot July afternoon, are no longer with me. My uncle, my cousins, my great aunts, my great uncle….they are all gone. So one perspective was I would not allow any disagreement or nonsense get in the way of my familial relations. I will cherish the time that I have with my loved ones; time is fleeting.
But the second was what Robert Smalls truly means to me as a man. For much of my childhood, he was just that person I could say I was connected to by way of a yellow t-shirt and a biannual three day weekend somewhere on the eastern seaboard. As I got a little older, I used Robert Small as my role model in trying to talk to older women! Hey, he married somebody that was 12 years older than him! In 1856, a 17-year-old Robert Small married a 31-year-old Hannah Jones. She was a hotel maid…he was a waiter (at the Planter Hotel…how ironic!). Even at the young age of 16 (when they started dating), first off he successfully won the heart of a 30 YEAR OLD WOMAN! For that, I forever tip my hat to him…but on a more serious note, understanding that he had the responsibility to head a family, he did all that he could to make the best of their situation. Starting at age 17 he worked hard to get the money to buy his wife's freedom, and the freedom of their child…by age 32, he was now the owner of his slave master's house. What an example for young Black men today?!
But standing at that grave this time, along with the grave of Hannah Jones, I realized that I am only here isn't because Robert Smalls was a Civil War Hero, South Carolina Statesman, or Congressman. I am here because Robert Smalls was a good [step] father. I told you about how he hijacked The Planter, but my prospects of my life story began when he made a stop to pick up the families of the other crew members, and his own wife and children…including a child Hannah had from a previous relationship. Even later in life, Robert Smalls embraced both daughters Hannah had previously to their marriage…from all accounts, he loved them as his own children.
It's because of the love, nurturing, structure, and provision he provided that laid a foundation for me to be here today. He didn't just consider himself, but his wife and her children. Standing at that grave, that's when the dots were connected, my story to his. To love your wife is to embrace all that comes along with her and together work to get to where you want to be. To view that beautiful house, that was once a symbol of his bondage, with his hard work, was transformed to symbol of overcoming and perseverance.
It's amazing in how many ways my life has shaped up to be like his. But I definitely left that Beaufort cemetery with a renewed sense of optimism about my current life. If my great-great-great-great grandparents could overcome slavery, what challenge can I not overcome with my wife? It is for this reason that I put "step" in brackets… I choose to have a love that embraces my wife's children as if they were my very own. There is adjustments that come along with that type of love. But to see a man that had achieved so much, it would have been an easy act to abandon her children and only consider the ones that were the fruit of his loins…but that would be an act of cowardice. To not accept her children would mean that he didn't not wholly accept her. It's been quite a journey so far. There are some good days, then there are other days that encourage you to work harder for more good days. Every day is different… but to see what my ancestors were able to do, in the midst of such opposition, shows me that you must keep the end in view. The present can be such a distraction…but the end. Where you want to be, opposed to where you are. What you want to have, opposed to what you don't. The end is the driving force to push through and make sense of the beginning.
I'd encourage you to read up more on Robert Smalls…he was a remarkable man. And I am here today because of the giant of the man that he was. What a legacy to live up to.
Familuv,
TWJ
John 3:30