Before I say a word, I kept trying to give a shout-out to my professor, Dr. B. But I kept getting distracted and clicking out of it. So I just want to do it publically in this post… Dr. B, you've been my BIGGEST supporter since Day 1. I don't think there are many students that have had a professor pour rich words of encouragement and empowerment in their lives as you have Dr. B.  But the great thing about it, you do so with spiritual dignity. To think that almost three or so years ago, I was placed in your class by "accident." The class I needed wasn't offered and my adviser had to jump through hoops with the Dean's office to get it approved. But I can say that 3 years later, it was definitely no accident. I'm eternally grateful that our paths crossed…
Well, the purpose of this post is in short to tell you why I walked away from job. I've been so busy over the course of the year; I didn't even have time to tell you what I've been doing! So here we go…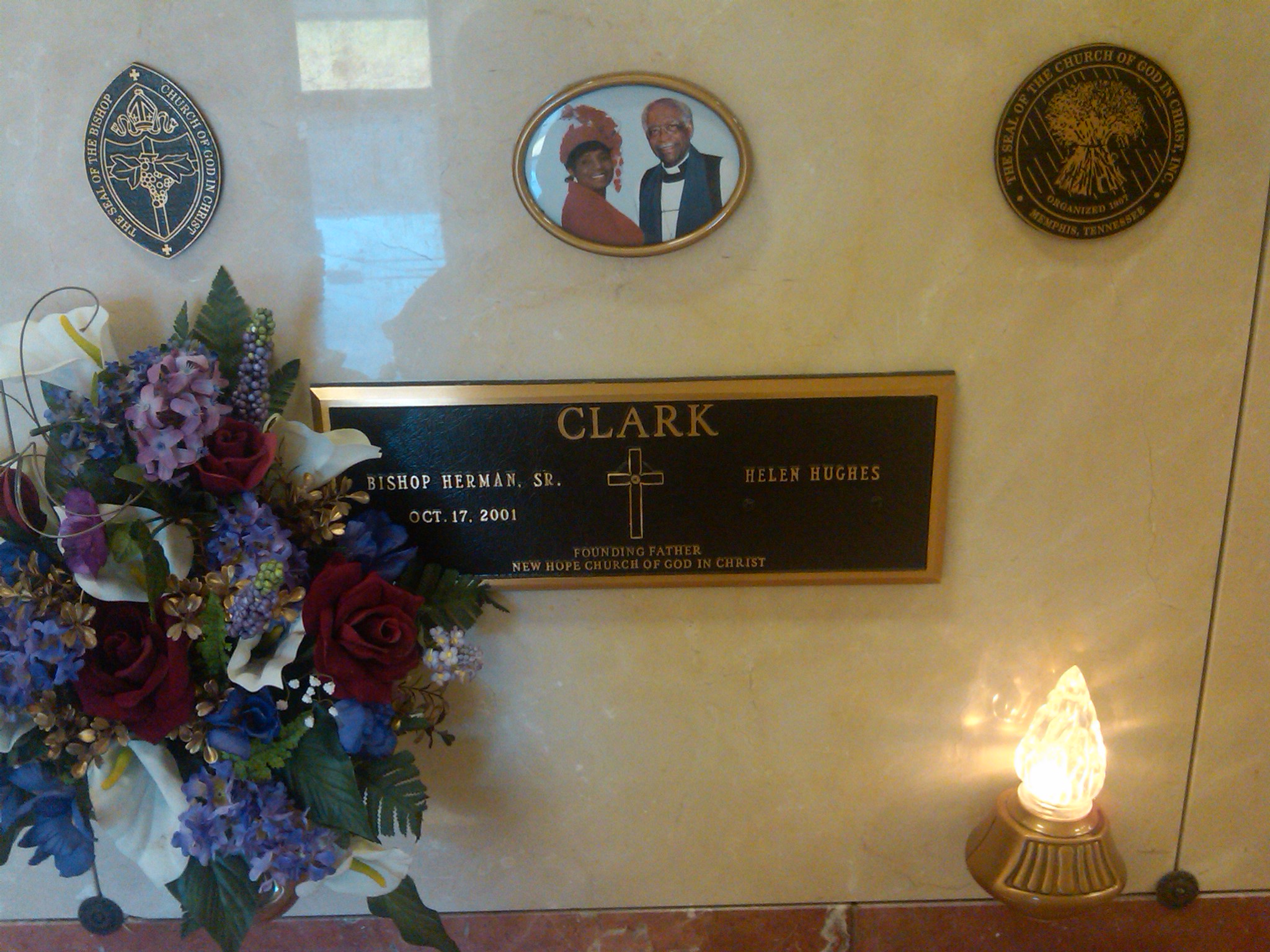 You can click the image above to view a video of Bishop Clark preaching in the 1980s.
When I was a little boy at New Hope Church of God in Christ, there were two bible verses that were on the walls. I mean, these Plexiglas plaques, adorned with black letters, were HUGE. But these two verses of scripture were inspirations for my pastor, Bishop Herman Clark, Sr. (Due to some certain circumstances, many have seemingly forgotten him. This photo let's you know that I didn't; I visit his tomb often. Click on this picture to see Bishop preach back in the 1980s.) Those two verses are Joshua 1:9: "Have not I commanded thee? Be strong and of a good courage; be not afraid, neither be thou dismayed: for the LORD thy God is with thee whithersoever thou goest." The other verse was Psalms 37:23: "The steps of a good man are ordered by the LORD: and he delighteth in his way."
Well, these two passages gave me the courage to know that I was making the right decision to walk away from teaching. I'm going to break this up into two blog posts… The first, "The steps of a good man."
The Steps of a Good Man
For much of my life, whenever I actually tried to make something happen. Whether it was relationships, jobs, or whatever else, I failed miserably. I'll never forget me trying to do things on my own and "finding a job." Against my father's advice, I found a job where I could make $500 a week. It sounded good, so I went in. Next thing you know, I spent my 20th birthday, dressed up in a suit, in Portsmouth, with some dude driving on a revoked license, dude smoking marijuana, and me attempting to sell knock off fragrances. I can go on and on, but whenever I tried to do things, I failed. But whenever I would just effortlessly walk in life, and try to please God along the way, strange things would happen… Good things, but strange. I don't want to spend too much time on this, but back in high school, I had zero intentions on going to college. As soon as I graduated, I was going to go straight to funeral school and get a job. But the gentleman I worked for at the time, Councilman Paul R. Riddick, said, "Timmy, funeral school isn't going anywhere. You're smart and you need to get your four year-degree." I'm glad that he said this to me.
Well, March 17, 2005, I hadn't applied to any kind of school or taken an SAT or ACT. But one of my friends and classmates, Chelsea Nicolle Vann, let me know. "Umm, Tim, Hampton University is accepting on the spot tonight at the Virginia Beach Campus." That's how I got into college. I thought I was a Business Management major. I went to go to my advisor to change my major to Entrepreneurship, only to discover that I was a Business Administration major. Does that give you a clue that I was clueless in college? LOL. But I ended up with an F in Calculus (that's for Fresh, y'all…), I so I wanted out so I wouldn't have a failing grade on my transcript. Of course Chelsea left me there after fall semester by myself!!!
The following fall, I matriculated to Old Dominion University. Now, back in high school I was a big time Marketing Education student. My senior year, I won first place internationally in DECA (the club for Marketing) for the entrepreneurship event with my business plan for a funeral home. That was in Anaheim, CA. Three months later, I won 1st place nationally with FCCLA in San Diego, CA… Disneyland 4 times in three months…unreal! So I went to talk to the state adviser of DECA, Mickey Kosloski, who was actually a professor at ODU. The joke is, I don't know how it happened, but I just saw Kap (a nickname I gave him) pull out a pocket watch and I woke up a Marketing Education major; he became my adviser. At ODU, I was clueless again; I wouldn't have graduated if it wasn't for him. One day, on the first day of classes, I was sitting in class…and the stuff the professor was saying sounded so familiar. I looked at this text book I purchased…it looked familiar. Then when she passed out the syllabus…it looked familiar. I excused myself from class, you know, faking like I had to go to the restroom. I went to my advisor's office and asked him, "Kap, have I taken this class before?" He pulled up my file on his computer, looked at me and shook his head… "You bonehead! You took this class and passed it with an 'A' already. You're an idiot."
I graduated in 2005 from Landstown High School, but in 2005 I was hired to be a substitute teacher… I came out of high school with college credit, so I loaded my schedule to be able to have enough credits to sub. And where did I spend most of my sub time? At Landstown High School working with the guidance secretaries on my off time…most notably, Mrs. Diane Behre. I was never big on lunch; I've been the type of cat that's always stayed to myself. So what did I do during lunch? I worked in the guidance file room… They always had something that needed to be filed. On my blocks off? I worked in the file room. Not to mention I was a guidance helper my senior year (because my guidance counselor, Mrs. Denise Schmitter MADE me. I had like 34 or 36 credits in high school. Summer school every year, no lunches, and credit from middle school stacked up. All I needed was two classes to graduate, WITH HONORS, but she stuck me in random classes and made help in guidance. I'm glad she did because I developed a love for space with my astronomy class and got a friend for life…she sat by me in both Astronomy and Foods classes…if I knew then what I knew now…)
But being such a big help with guidance, the School Improvement Specialist needed some help. Her name? Mrs. Shani Twyman. Without reservation, guidance recommended me. Mrs. Berhe called my cell phone (that's where sub calls would come) and it was so out of the sky… But I went along with it. But like always, I put 110% in what I did with Mrs. Twyman. She went through an interesting journey in her life at that time, and I was there to help in whatever way I could. I guess I did a decent job because she had me come back the next year. We developed something like a mother/son/brother/big sister relationship. It was an interesting dynamic. More interesting was the fact that two of her workers on her team, were two of my classmates at Old Dominion…how small of a world. One in particular, Mrs. Theana Shaw is just the bomb diggity. We were just an awesome team with her and developed a great friendship as well.
Well, July 2010, Mrs. Twyman asked me and Theana to come help her with testing during summer school. Once again, out of nowhere, she said to me, "Let me find you a job." Mind you, I was a college graduate, had student taught, and had a license to teach…I wasn't looking for a job at all. I don't know, I'm just really an idiot! So she found a job at Renaissance Academy to run the online learning lab. Now Renaissance is the alternative school for the city. I wasn't really afraid of the kids, but I didn't know what the heck I would be getting myself into. Every reason I could think of NOT to apply, Shani batted it down and made me do it anyway. I wasn't qualified according to the application. You needed at least 3 years of teaching experience and a license in a core subject. I had no teaching experience and was licensed in an elective… Marketing Education. But she told me to apply. I told her that I wouldn't do it unless Theana applied for the assistant position…she did and she ended up becoming Renaissance Academy's Teacher Assistant of the Year…all because I was too much of a punk to apply for the job by myself…LOL.
Be mindful of this… I was offered over $60,000 a year to play the organ for a church. My cousin is on the official board and he heard me play for my Aunt's funeral in New York. Several times he asked me to do it, but I politely declined each time because of my commitment to my father's ministry. Do I get paid? Nope… But I wasn't willing to leave my father, not even for $60K. Surely, it was probably working 2 or 3 days a week…but my love for my father runs deeper than cash. Not a large ministry; but I'm his namesake. I said all that to say, me denying myself, God still provided for me. I've said a lot thus far, but this is just a drop in the bucket of my story. But through it all, I've showed you LITERALLY how God has ordered my footsteps. I didn't have to try for anything; I simply walked into each and every situation. But while I was in each and every situation, I did my absolute best and that opened the door for the next situation.
I now write you as one that successfully completed one year of teaching at an alternative school. I feel if you can do what I did, you can do anything! I had probably more students than most teachers in the building; one class had 29 students on the roll, with 26 computers…but I made it work. That many students at an alternative school, but I had less than 15 non-routine referrals all year. I was able to garner their respect and they worked hard for me. Some students that gave others a hard way to go…just worked for me. I had a couple that wanted to fight for me… As the year progressed, there was something knocking on the inside… if I could do this in a classroom. If I can make a small difference with students in the hallway that I don't know, but they know my name…what could I possibly do on a larger scale?
Certain things transpired that let me know that it was time for me to go. One talk with a certain person at Renaissance, I won't give her name until I make something of myself, LOL, let me know in so many words, that it was time for me to spread my wings a fly. So I made the decision to leave.
Breaking the news to my principal was pretty tough. I was going to give her a letter of resignation on the last day and send a text message to my co-workers. But that "encourager" of mine told me to go tell her face to face. So went to her office and I broke the news. She asked me, "Are you sure this is the right decision, you know…financially?" I told her, "That it's the right decision, but the financials I haven't really worked out yet. But I have several avenues of making money; that's not a major concern for me." (I mean…you know I'm pretty crazy to turn down $60K just to play the organ, right? LOL). Then she asked, "What did your father say?" (She knows my father is a minister.) I told her, "My family is behind me." Then she asked, "Do you have a plan?" Then I told her… "No, not really."
I really don't feel the need to have a "plan" per se… Jeremiah 29:11 lets me know that God already has a plan… I certainly arrived to this point in my life without one…I'll be alright.
But I'll close this Part 1 out by saying… My father is a minister, but he's also a muralist. I've helped him out on a couple of them. The most interesting thing to me is how he starts of…it's just one big random brush stroke on the wall. To look at it, you would wonder what he's really thinking. But the cool part about it is the mural was already in his mind, he just had to get it on the wall. I have a mural in my mind… I've just got to get it on the wall.
To be continued…
Familuv,
TWJ
John 3:30